Happy Friday! Here is the next FANTASTIC creation from my guest designer,
Becca Whitham
, using one of my favorite words EVER!!! See you later, alligator!
My favorite thing about stamping is how it has no creative limits. The same stamp set can be used thousands of different ways. Designer paper can be altered to fit your needs. And, when you start combining a little from here and a little from there, the sky's the limit.
For design team duties over at
Mimi, Myself, and I
, I combined two stamp sets, a few papers, and several oldie-but-goodie stamping techniques to create a unique card by adapting a pattern from the
Originals Card Confidence Program.
Here's the supply list with links for your shopping convenience:
The first technique I used was to score my
Cocoa
cardstock every 1/4 inch then sand it to expose the white core. I sanded both horizontally and vertically to get it nice and distressed. I also distressed the edges on the
Seaside
paper and did a bit of sanding over the top of it as well. Using a
sponge dauber
, I added
Slate
ink to the distressed parts. I love how distressing plain cardstock and then sponging gives it the same shabby-chic feel of the cracked paint designer
Seaside
paper.
The second technique doesn't show up well. I masked off the word "Wonderful" from the original sentiment (see below) and substituted "awesome" in Cocoa ink from
You're the Bomb
.
Liquid Glass
is my "go to" accessory. As you see in this close-up, I used it to give the butterfly bodies some shine and dimension. It's also great to adhere a tiny, butterfly body because it's strong enough you can fold up the wings knowing it will stay put. I also used it to affix the tails of the ribbon where I wanted them. I rarely get the tails of either knots or bows to naturally fall the way I like, and it used to bug me. Then I saw someone dot tiny bits of
Liquid Glass
under the tails and cement them in place. Genius!
There are a couple other things I want you to see about these butterflies. The first is how I got that very cool swirly pattern on them. I started by inking the largest solid butterfly from
You're Own Kind of Wonderful
(bottom, left) in
Glacier
ink and rolling the edges in
Slate
ink. Then I inked the largest, swirly butterfly (top, left) in
Cocoa
ink. I "kissed" the solid butterfly to the swirly one, twisted without taking the two images apart, then pulled them apart.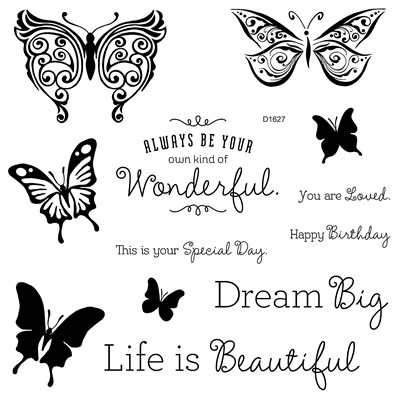 I did the "kiss and twist" technique a couple times to cover the entire surface of the solid butterfly. I stamped it on a separate piece of white card stock, trimmed it out (cutting off the antennae), and colored the body with the
Bronze
marker. I did the same "kiss and twist" technique using the same colors with the medium, solid butterfly (middle, right) and stamped it under my sentiment. I had stamped my sentiment onto a rectangle of white cardstock that was extra long. I then used my
Paper Trimmer
to slice up to the edge of the small butterfly and used scissors to trim out the bottom of the butterfly. After I adhered the larger butterfly over top of the smaller one, I used a marker to re-draw the antennae.
Because I'd distressed my background paper, I had to touch up the butterflies with the sponge dauber to tone down the colors.
The last technique used on this card was adapting the card pattern from
Originals
. As shown, it's a 4.75 x 3" card, but I wanted a standard 4.25 x 5.5" card. Basically, I looked at the picture and created my own measurements. After creating my card base, I cut another piece of
White Daisy
cardstock at 4 x 5.25" and adhered the Seaside paper (4 x 3.75") and Cocoa cardstock (4 x 1.5"). Having a card panel that goes over the top of card base allows me to tape the edges of ribbon (or staple, or poke holes, or...) without the card recipient ever seeing my mess.
I want to re-create this card and substitute "Beautiful" for "Wonderful" then send it to my daughter. But that only uses one stamp set, and it's my job to make you want more than one. (**Big, cheezy grin**)
Until next time,
Becca
--
I LOVE the You're the Bomb My Acrylix stamp set...AND it even provides a donation to Operation Smile when you purchase it! BUT, it is ONLY available until the end of March...
Don't forget! Any orders you place now until April 7th will qualify you for my March Madness Mystery Hostess giveaway, so make your wish list, and head on over to
my website
for a chance to win at least $25 in CTMH goodies!